Chester Simpson
has over 40 years of experience in photojournalism, portraiture, editorial, travel, and corporate photography worldwide.
He grew up painting, drawing and taking pictures in Roanoke, VA. and studied Commercial Art at Virginia Western Community College.
After receiving an AA degree. He hitchhiked across country in 1975 to accept a scholarship at the San Francisco Institute of Art, to study photography where he received a B.F.A. In San Francisco, he met two of the major influences on his life, legendary master photographer Ansel Adams, founder of the Art Institute's photography department, and Jim Marshall, the famous rock-n-roll photographer. While attending school, he assisted photographers to learn the business side of photography and started hanging out and taking photographs in punk rock clubs at night.
Rolling Stone magazine published his first picture while he was still in Art School, which kicked off his career as a rock-n-roll photographer shooting for MTV, Warner Bros, MCA, AM, Capitol, CBS, and Chrysalis Record companies. He also shot assignments for BAM, Berkeley Barb, Bay Guardian, Circus, California, Crawdaddy, Creem, Melody Maker, New Musical Express, Newsweek, New West, New York Rocker, People, Relix, Rolling Stone, and San Francisco magazines.
After ten years and several record covers to his credit he moved to Washington, DC and became a tour photographer traveling with Celebrity Entertainers and Music Artists to military bases around the world to entertain our US soldiers on USO Tours.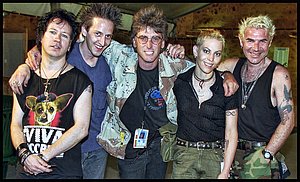 Documenting thirty-five USO tours with performers and celebrities such as Anita Baker, Ruth Pointer, Paul Rodriquez, Neal McCoy, Dallas Cowboy Cheerleaders, San Francisco 49ers Cheerleaders, Wayne Newton, La Bouche, Oleta Adams, Mark Collie, Lisa Stewart, Toby Keith, BR549, Charley Waller, MC LYTE, Spyro Gyra, Larry Gatlin, Craig Morgan, Chris Young, Ricky Skaggs, Jeffery Osborne, Will Downing, La Toya Jackson, Billy Joel, Jay Leno, Sheryl Crow, Sinbad, Hilary & Chelsea Clinton, Clint Black, Hootie & the Blowfish, Gin Blossoms, B.B. King, Paula Cole, 10,000 Maniacs, Blues Traveler, Gerald McRaney, Claudia Church, and Joan Jett & the Blackhearts among many others. He visited U.S. bases in Antigua, Azores, Bahrain, Bermuda, Bosnia, Croatia, Cuba, Dubai, Egypt, England, France, Germany, Greece, Greenland, Haiti, Honduras, Hungary, Iceland, Iraq, Israel, Italy, Japan, Kenya, Korea, Kuwait, Macedonia, Netherlands, Newfoundland, Okinawa, Panama, Puerto Rico, Sardinia, Saudi Arabia, Sicily, Sinai, Somalia, St. Thomas, South Korea, Turkey, UAE. Most recently he's traveled to Czech Republic, Hungary, India, Netherlands, Thailand, and Vietnam.
Chester takes on assignments for corporations, organizations, associations, and publications in and around the Washington, DC / Baltimore area.
Chester Simpson exhibits his photographs in local, national and international galleries around the world.
To view more of his photography, visit his Porfolio web site at ChesterSimpson.com
For more information email Chester Simpson
---
Copyright © 2022 Chester Simpson - All Rights Reserved
All photographs appearing on this site are the COPYRIGHTED PROPERTY of Chester Simpson, and are presented for web browser viewing only. Nothing contained within this site may be reproduced, downloaded, stored, manipulated, altered, or used in any form without prior written permission. It's unlawful to copy or publish images from this website.
Any unauthorized usage of these images will be prosecuted to the full extent of the U.S. Copyright Law.